1978-1980 The Trifecta
---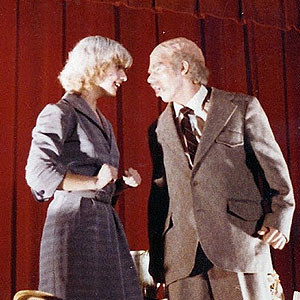 According to the November 15, 1978 Carroll Torch, the drama club went through some changes during the 1978-79 school year.
Anthony Franchina states, The Carroll High School Drama Club consists of three divisions the Taxi Group, the Competition Group, and the Religious Group. Each group concentrates and pursues a different field of drama. The Taxi Group would be considered the traditional drama by many. The members of the group decided early in the year to do small plays. The group is presently working on a three act comedy, Come Blow Your Horn, by Neil Simon. The play is scheduled to be presented in early December, possibly one performance in front of the school. The Competition Group competes in the tri-state area, focusing on a wide range of subjects such as oratorical interpretations, humorous interpretations, duet acting, original oratory, pros in poetry reading, and extemporaneous speaking. The group is preparing to enter competitions beginning in December. The Religious Group works in conjunction with the Liturgy Committee, performing during the school masses. The group is currently working on a religious presentation to be performed during the Christmas masses.
Sue Shaw states in the December 19, 1978 Carroll Torch, The Liturgy Committee moderated by Mr. Milton Royer is now making plans for the Christmas Mass to be held on Thursday, December 21. The Christmas Mass this year will be a little different. The gospel will be acted out by the religious group of the Drama Club, moderated by Mr. Vincent Golphin. The music for the mass will be provided by the guitar group of the Liturgy Club. The songs will center around the theme The Coming of Christ.
Drama performances in 1978 and 1979 include the following: Fall 1978: The Devil and Daniel Webster March 1979: Josephs Amazing Technicolor Dreamcoat, directed by David Luzio, Vincent Golphin, and Ron Schulte 1979-1980: The Effect of Gamma Rays on Man in the Moon Marigolds, directed by Marilyn Hall