DayTony High School Program
---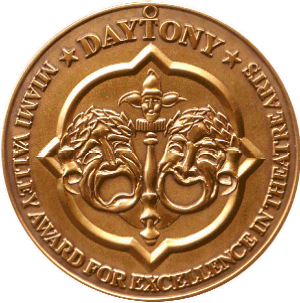 The Carroll Freedom Players are proud to be a part of the high school DayTony program!
Mission: The DayTony High School Theatre Awards seeks to recognize achievement in theatrical arts in productions by participating Dayton area high schools as well as introduce high school students to the productions being done at other schools in the area.
Full membership list of schools: Carlisle, Carroll, Centerville, Chaminade-Julienne, Fairmont, Franklin, Miami Valley, Northmont, Springboro, Stebbins, Stivers, Tecumseh, Tippecanoe, and West Carrollton.
How the process works: Schools submit the attached registration form for their productions to be adjudicated. Registrations are due by Sept 1st. Each school will be responsible for finding student adjudicators for productions, which they are assigned to view. Each production will be viewed by five different schools and all five ballots are submitted to the DayTonys for tabulation. The DHSTA committee (comprised of representatives from the staff of each participating school) will meet in May to determine the ratings necessary in each category to be eligible for an award. This is a cutoff for scores to receive recognition – not a determination of who or what school is the best. Awards of excellence and merit in a variety of categories will be distributed at the annual Gala in June.
Adjudicator responsibilities: read about the responsibilities of adjudicators here
Carroll's Assignments:

Nov. 11-13: Springboro All I Really Needed to Know I Learned in Kindergarten
Nov. 18-19: CJ The Odd Couple
December 7: Carlisle Tis the Season
Feb. 10-18: Northmont Seussical
Feb. 17-19: Franklin The Crucible
Feb. 24-25: Stivers
March 17-19: Tipp City
April 6-8: Northmont Captain's Log
April 21-30: Centerville Anything Goes
April 27-29: MVS
Awards Banquet Date: Thursday, June 1st at Sinclair's Blair Hall Theatre at 7pm.
Contacts and Directions (PDF)